Life on the Other Side: A Psychic's Tour of the Afterlife (Abridged / CD-Audio)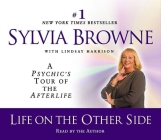 $22.95
Email or call for price.
Description
---
Born into a family with a long psychic lineage, Sylvia Browne became aware as a child that life existed in dimensions beyond our own. Life on the Other Side is Browne's vision of this other existence. The Other Side, she believes, is our home—where we came from and where we will return between lifetimes. Drawing upon both personal and professional experiences, Browne provides a guide for living—one based on her belief that "religion, spirituality and paranormal are consistent parts of God's creation."

Life on the Other Side also explores Browne's theories about reincarnation and a wealth of paranormal experiences, including astral travel, channeling, past life regressions and near-death encounters.
About the Author
---
SYLVIA BROWNE is the #1 New York Times bestselling author of The Two Marys, Psychic Children, The Mystical Life of Jesus, Insight, Phenomenon, and other bestsellers. She has been working as a psychic for five decades and appears regularly on The Montel Williams Show. She has also appeared on Larry King Live, Good Morning America, CNN, and Entertainment Tonight. She lives in California and works alongside her son, Chris, who has inherited his mother's psychic abilities.
LINDSAY HARRISON has written several bestselling works with hypnotist and psychic Sylvia Browne.