The Book of Card Games for Little Kids (Paperback)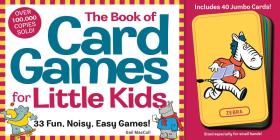 List Price: $13.95
Our Price: $12.95
(Save: $1.00 7%)
Description
---
A full-color deck of cards specially designed for little kids (no numbers or reading required!), plus a lively book of 33 animal-based card games that are easy to learn and fun to play.
Deal out Noah's Ark, and save the Lions, Hippos, and Zebras from the flood. Win lots of "nibblies" in Feed the Kitty by getting rid of your cards first. Bark when you spot a matching pair in Woof. And avoid fishing from the Amazon. Gather your friends, your brothers and sisters, your parents - your baby-sitter! - and get ready to have a blast with more than 30 card games. The only hard part is deciding which one to play first.
Packaged with the two-color illustrated book is a customized, oversized, four-color 40-card deck that features ten different animal "suits" of a mother, father, brother, and sister. (No number skills required!) The illustrations are bright and cheerful-skateboarding elephants, jump-roping rhinos, giraffes, tigers, and other animals-and all but irresistible.
These cards and games are specially designed for the littlest members of the family, who - along with their siblings, friends, and parents - will delight in extra-fun, extra-noisy games that require barking, roaring, shouting, slapping, and sometimes even jumping around like a monkey.  
About the Author
---
Gail MacColl Jarrett is a writer who lives in England.