Underwater Dogs (Hardcover)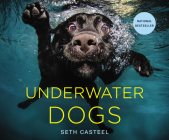 $24.00

Usually Ships in 1-5 Days
Description
---
The exuberant, exhilarating photographs of dogs underwater that have become a sensation.

From the water's surface, it's a simple exercise: a dog's leap, a splash, and then a wet head surfacing with a ball, triumphant.

But beneath the water is a chaotic ballet of bared teeth and bubbles, paddling paws, fur and ears billowing in the currents. From leaping Lab to diving Dachshund, the water is where a dog's distinct personality shines through; some lounge in the current, paddling slowly, but others arch their bodies to cut through the water with the focus and determination of a shark.

In more than eighty portraits, award-winning pet photographer and animal rights activist Seth Casteel captures new sides of our old friends with vibrant underwater photography that makes it impossible to look away. Each image bubbles with exuberance and life, a striking reminder that even in the most loveable and domesticated dog, there are more primal forces at work. In Underwater Dogs, Seth Casteel gives playful and energetic testament to the rough-and-tumble joy that our dogs bring into our lives.
About the Author
---
Seth Casteel is an award-winning photographer and the author of the national bestseller Underwater Dogs, Underwater Puppies, and Underwater Babies. His photographs of babies and animals have been featured in media including the New York Times, National Geographic Magazine, Morning Edition, the Washington Post, The Today Show, and Business Insider, as well as on the front page of outlets AOL, MSN, Yahoo, and hundreds of others. He lives in California.
Praise For…
---
Included in O, The Oprah Magazine's holiday gift guide, Entertainment Weekly's best-selling gift books list, and The Star-Ledger's holiday gift guide.

Seth Casteel's photographs are "a global phenomenon." -- Wired

"Surprising and funny." -- New York Times

"A great coffee table book." -- The Huffington Post

"These pictures are amazing and sometimes terrifying." -- The New York Times Book Review's "Inside the List"

"The arresting portraits in Seth Casteel's Underwater Dogs reveal what's happening below the surface. Teeth gnashing, paws paddling, primal and hilarious, these canines bubble with irresistible energy." -- O, The Oprah Magazine

"Seth Casteel's photos of dogs diving into swimming pools in hot pursuit of neon tennis balls have been a sensation." -- Washington Post

"Wide-eyed, wet-haired dog portraiture." -- Los Angeles Times

"The gorgeous, energetic snapshots are special in that they capture our pets in a primal state we rarely get to see." -- Entertainment Weekly's Shelf Life

"Different from anything you've seen before." -- CNN.com

"Alternately gorgeous and terrifying, but always visually sumptuous." -- Entertainment Weekly

"It's impossible to look at Under­water Dogs without smiling.... A delight-inducing book." -- BookPage

"Every image in this fetching work bubbles with life, reminding the reader that even in the most lovable and domesticated dog, there may be more primal forces at work." -- Publishers Weekly

"The most popular photography book of 2012." -- The San Francisco Chronicle

"If you're as much of a sucker for great animal photos as I am, you'll love this different take on man's best friend." -- Melanie Stetson Freeman, Christian Science Monitor

"Alternately humorous, rejuvenating, and even a little scary, these pictures of man's best friend in man's most essential liquid make us wonder why someone didn't think of taking pictures like this sooner." -- Complex.com

"Award-winning photographer Casteel captures his range of subjects with great affection and the variety of expressions and acrobatic poses will keep you chuckling for hours." -- The Daily Mail

"These aqua-doggies are guaranteed to bring a smile to almost any face as they become a whimsically single-minded parade of bared teeth and whooshing paws going after the balls and other objects that Casteel tossed into his pool just before clicking away on his underwater camera." -- American Profile

"Now we know exactly what to put on our holiday wish list!" -- pawnation.com

"... it's the gleeful images of dogs plunging into swimming pools, chomping after their favorite toys, that have put Casteel on the map as one of this country's premier - and innovative - pet photographers." -- petsugar.com

"Photographer Seth Casteel has done an unimaginable thing: he's created an entire photography book of dogs from an underwater perspective, and the photos are simply stunning.... Casteel is not only an animal lover but also an animal rescuer, and his genuine love of dogs shines through in his work." -- Babble Pets

"Dogs expressing their graceful and goofy selves while swimming." -- vetstreet.com